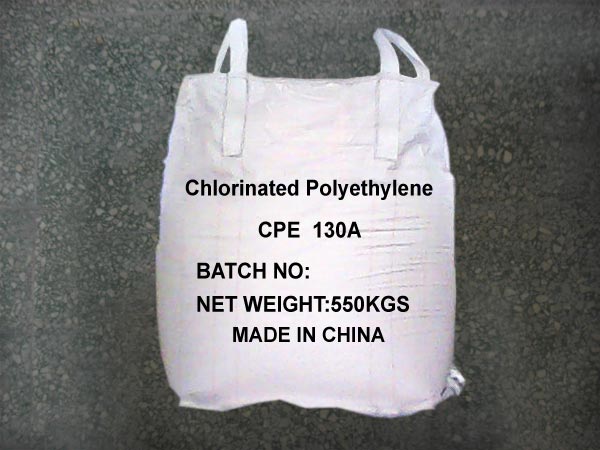 1.product characteristics
The product is a highly filled chlorinated polyethylene thermoplastic elastomer. Apart from having property of common chlorinated polyethylene, it also has such properties as fine toughness in low temperature and a great deal of filler acceptance.
2.main technical index
| | | | | |
| --- | --- | --- | --- | --- |
| Sequence number | items | unit | index | test method |
| 1 | chlorine content | % | 30±2 | GB/T 7139 |
| 2 | volatile | % | ≤0.3 | GB/T 2914 |
| 3 | Temperature of heat decomposition | ℃ | ≥165 | HG/T 2704 |
| 4 | Heat of fusion | J/g | ≤2.0 | DSC法 |
| 5 | Shore hardness(A) | | ≤65 | GB/T 2411 |
| 6 | Tensile strength | MPa | ≥8.0 | GB/T 528 |
| 7 | Elongation at break | % | ≥750 | GB/T 528 |
| 8 | 20 mesh sieve residue | % | ≤2 | GB/T 2916 |
| | | | | |

3.use
The product is mainly used for magnetic rubber. In addition, it also can be used for modifier and solubilizer of non-polar rubber such as EPDM etc.

CPE130A+ferric oxide powder+auxiliary agent used for making magnetic rubber strip for refrigerator; magnetic board and all kinds of calendering magnetic marker and so on.

CPE130A+EPDM+flame retardant+crosslinking agent used for making insulating layer of wires and cables with mid and low voltage, and cross linking modified EPDM waterproof membrane for roof.